The 2020 regular season is finally coming to an end, as well as the season for the New England Patriots, who did not qualify for the post-season. I'll save the details and the review on this, shall I say, underwhelming season for the New England Patriots for next week when I release the "Pats Review". For now, let's focus on the 2-13 New York Jets, who have won those two games in a row against the Los Angeles Rams and the Cleveland Browns. Although they've officially lost out on the Trevor Lawrence sweepstakes (congratulations, Jacksonville Jaguars) and are solidified with the second pick of the 2021 NFL Draft (barring some type of trade), they've created an obscene amount of chaos around the NFL with both the Rams and the Browns not having secured for a playoff berth despite their fantastic campaigns. Neither of these teams has much to play for in this final game of the year. The Patriots sit at 6-9 and are merely playing for pride and to find an identity to move forward with into the new year, and into next season. They will have an abnormally early start, by their standards, to the off-season and have a fair amount of questions to answer. The Patriots barely pulled out a win against the Joe Flacco-led Jets back in their last matchup. Needing a last-second Nick Folk field goal to stop their four-game losing streak and improve to 3-5. The Jets have Sam Darnold back at quarterback, and it likely won't be any easier at Gillette Stadium come Sunday afternoon. Let's not waste any more time, set it up, Bailey. It's time to send this season home.
Three Keys To The Game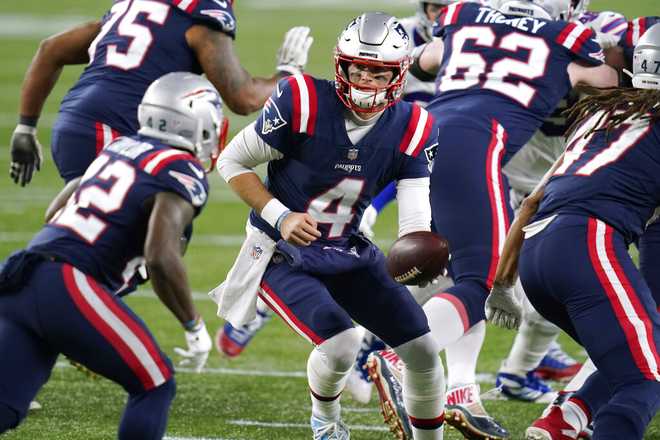 Key #1: Play The Kids
This game is nothing but a formality. There is absolutely nothing to gain from a win on Sunday, and the only thing a loss gives us is a potentially higher selection in the draft. If that's the worst thing that could happen in a loss, you shouldn't care all that much about the result. So as far as this game goes, the Patriots should play the players we haven't seen a whole lot of in meaningful spots. It's not just about the quarterback position either (we all know how I feel about the Cam Newton situation). Wide receivers like Donte Moncrief, Isaiah Zuber, Gunner Olszewski have not seen all that much time on the field. Seeing more J.J. Taylor at running back could be beneficial, designing more plays for rookie tight ends Devin Asiasi and Dalton Keene. Defensively, seeing more of safety Kyle Dugger and edge rusher Chase Winovich could also prove to be of positive effects, even in a loss! It's time to sit the veterans and play the rookies and younger players. This roster wasn't good enough to have 16 meaningful games, at this point the snaps mean a whole lot more to the rookies and unproven players than guys like Devin McCourty and Damiere Byrd.
Key #2: Pressure Sam Darnold
None of us have forgotten the last time we met Sam Darnold. Last season on Sunday Night Football, he provided the internet with possibly the most Halloween-appropriate quote, "I'm seeing ghosts". It provided the 2019 Patriots with the most undeserving nickname "The Boogeymen". As annoying as the nicknames might be, Darnold has been unable to handle pass rush thus far in his three-year career. Whether that be the fault of head coach Adam Gase or his own, the handling of the trenches by the Patriots defense will dictate just how many points this Jets offense will be putting up. Look for Adam Butler and Chase Winovich to be storming the line of scrimmage hunting for the quarterback. It's hard to imagine the Jets pulling out a win if Darnold throws four interceptions trying to beat the sack.
Key #3: Find Something To Carry Into 2021
As said before, this game doesn't mean much. Though I'd like to see the Patriots develop some kind of offensive identity and positive steps to take into the off-season. Not to say the Patriots don't have an identity, it's just a really poor one. They can not pass the ball effectively and have no threat of a passing offense. It's no way to win in the current day NFL, and as smart as Bill Belichick and Josh McDaniels are, they should know that better than anybody. We're all aware that Newton and Jarrett Stidham handicap the Pats, but they have to at least try to make something through the air work, even if it results in a loss. At this point? It's not the worst thing that could happen.
X-Factor: Edge Rusher Chase Winovich
If there is any player that should be getting some extra snaps in what should be, a glorified pre-season matchup, it's Chase Winovich. His snap count has been inconsistent throughout his second season. Though when he's played, he's been a force to be reckoned with racking up nine quarterback hits and three and a half sacks through his limited playing time. I would love to see what the future duo of Winovich and Josh Uche (who was placed on injured reserve on Thursday) can be for the future of this Patriots team. With linebacker Dont'a Hightower getting older and the losses of big time pieces from the last few off-seasons (Kyle Van Noy, Jamie Collins, Trey Flowers, to name a few), it could very well be up to these two to attempt to fill the holes left by such big pieces. Seeing more of these young pieces will only give fans and coaches alike a better idea of what this team has moving forward.
Closing Thoughts
It's a little hard to believe that a Patriots season could end before the playoffs. Hell, one could argue that this season was over before this, when the Patriots were eliminated from post-season contention after dropping their Week 15 matchup with the Miami Dolphins. If somebody wants to get real ambitious, it ended even before that. For many, this year was a disappointment for the Patriots, though if anybody can rebound from a year of disappointment and unmet goals, it's a Belichick-led team.
That being said, I doubt Belichick purposely loses this game or makes a change at quarterback, even after being pestered for weeks on end because of the poor play at the position from Newton. The Jets are winning games as of late, and what do they have to lose with trying to win with the second overall pick locked up? The Jets could have some fun pantsing a team they haven't beaten since 2015. So ultimately, with the Patriots having nothing to win, and the Jets having nothing to lose, this game is going to be a fit ending for the Patriots as they look to make something better of themselves in 2021.
Final Score: 23-12, New York Jets win (Patriots finish at 6-10)
Photo Credit: Vincent Carchietta-USA TODAY Sports
Comments
comments